New Hydrogen Refueling Stations Link North and South Germany
August 22nd, 2017
The joint venture H2 Mobility Deutschland and its partners Air Liquide, Daimler, Linde and Shell officially opened two new hydrogen refuelling stations today in Frankfurt and Wiesbaden. The German federal state of Hesse now has five H2 filling stations for emission-free fuel cell vehicles and are now closer to becoming a nationwide H2 supply network.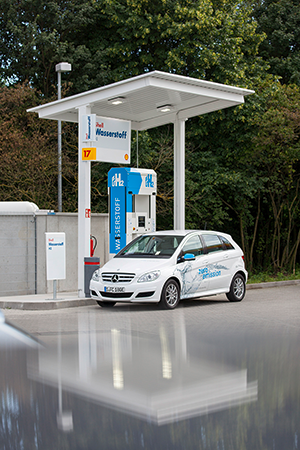 Thanks to financial support from the German government via its National Innovation Program for Hydrogen and Fuel Cell Technology (NIP), Germany now has a total of 30 hydrogen refuelling stations. Overall, the German government has invested some EUR 1.6 million in the two new stations. By 2018, there should already be 100 stations. The cornerstone for the expansion of Germany's hydrogen infrastructure was laid by the trailblazing demonstration project Clean Energy Partnership (CEP) which set out joint standards and norms.
The innovative H2 handling technology hails from two of the big names in this sector: Air Liquide and Linde. Both stations are located on Shell premises, conveniently located directly on the A661 and A66 motorways, key points of intersection for people driving from north to south through Germany. It takes between three to five minutes to fill up a fuel cell vehicle. Both stations have the capacity to serve 40 FCEVs every day.
"Hydrogen technology is a very promising technology and H2 a fuel of the future. We believe this alternative drive system will play an increasingly important role in markets like Germany, England, Benelux and the USA as of 2020. We at Shell are on target," said Stijn van Els, Management Board Chairman Shell Deutschland Oil GmbH.
Pierre-Etienne Franc, Vice-President Air Liquide Advanced Business and Technologies is quoted saying, "Hydrogen energy contributes to efficiently decarbonise the transport sector, which is one of the main sources of air pollution in our cities. Together, industry and government has made a strong commitment to accelerate the deployment of hydrogen for cleaner mobility in Germany. As a founding partner of H2 Mobility, Air Liquide brings its expertise to support the construction of the world's largest hydrogen station network. This new station opened with Shell in Frankfurt is another demonstration that hydrogen is now a reality."
For more than 12 years, Fiedler Group has been an industry leader in the design of retail hydrogen fueling stations. To learn more about Fiedler Group's expertise in hydrogen fuels system design contact us today.