Chevron & Jacksons Team To Double The Number Of ExtraMile Sites In Western U.S.
February 13th, 2018
ExtraMile Convenience Stores LLC (EMCS), a joint venture between Chevron U.S.A. Inc. and Jacksons Food Stores, officially started operations on Feb. 1.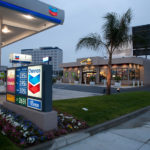 Last fall Chevron announced the formation of EMCS, which is co-owned by Chevron and Jacksons, to grow the ExtraMile brand. The new company will be located in San Ramon, Calif.
Founded in Caldwell, Idaho in 1975 as a single service station,  Jacksons Food Stores, Inc. has grown steadily over the years, becoming a nationally recognized chain of over 230+ Chevron, Shell, and Texaco branded convenience stores in 6 western states.
The partnership will expand the ExtraMile brand across more of the western United States, with plans to double the number of ExtraMile sites by 2027.
Commenting on the new partnership, Paul Casadont, president of EMCS stated "This is an exciting time for Chevron, Jacksons and the new company as we kick off the next chapter in our ExtraMile growth story.  By partnering with Jacksons, we are well positioned for dramatic growth over the next decade – we intend to double the number of ExtraMile sites in that time. Customers can count on the same world-class c-store experience they've come to expect from ExtraMile with even more opportunities to enjoy the benefits and product offerings."
The agreement calls for Chevron's more than 250 company-owned, company-operated ExtraMile locations to become franchisees of EMCS.  This year Jacksons will begin converting its 60+ existing company-owned, company-operated Stores at Chevron and Texaco locations to ExtraMile – all falling under the EMCS franchisee umbrella.
Since the first store opening more than 10 years ago, the ExtraMile network has grown to close to 800 convenience stores (c-stores) in California, Oregon and Washington.
Contact Fiedler Group to learn more about our ExtraMile store design experience.