Big Rigs to Pickups – Toyota Could Develop Full Hydrogen Fuel Cell Truck Line
June 13th, 2017
In California, heavy-duty vehicles — including big rigs, buses, delivery trucks and port-based drayage vehicles — account for more than 30 percent of the state's smog-causing nitrogen oxide, or NOx, emissions and 7 percent of the state's global warming emissions, according to a study by the Union of Concerned Scientists.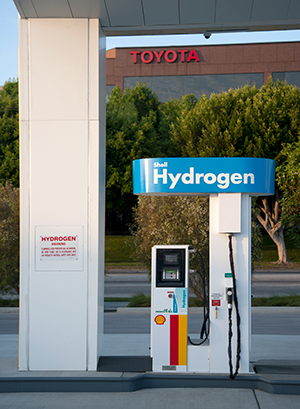 What once was a secret known as "Project Portal", Toyota is now live-testing a short-haul, zero-emission drayage truck transporting shipping containers between the ports of Los Angeles and Long Beach and several freight depots up to 70 miles away.
If the prototype truck proves worthwhile, Toyota could become the first major automaker to enter the fuel cell market for Class 8 vehicles. The Toyota North America team said it decided to focus on a heavy rig truck to some extent because the vehicle could best demonstrate the fuel cell technology while contributing to cleaner air in heavily polluted Southern California.
Project Portal also hopes to demonstrate that the technology can be adapted to a wide range of transportation uses said Takehito Yokoo, senior executive engineer for advanced fuel cell development at Toyota North America's research and development center in Torrance, California.
"If we can show that the technology applies to the largest trucks, then it will be much easier to show that it can be applied in scale to smaller trucks and bigger cars as well," Yokoo told Trucks.com.
Toyota has already began applying this technology regarding a Toyota-brand fuel cell transit bus in Japan, the first of 100 it has said it will build for the upcoming 2020 Tokyo Olympics. The company has also been testing a fuel cell pickup truck called the Hydra.
Embarking on this venture could prove to be costly, as there will be a need to provide a nationwide fueling network to provide for the ever expansion of hydrogen powered vehicles.
Fiedler Group has been responsible for the site screening, due diligence, site adaptation design and system integration, permitting, project management, and construction management for hydrogen fueling facilities throughout California and in Florida.
To learn more about Fiedler Group's expertise in the alternative fuels industry, and how the Fiedler Group team can assist you with your project, contact us today.
Learn more about this at Trucks.com:
https://www.trucks.com/2017/04/19/toyota-project-portal-fuel-cell-truck
https://www.trucks.com/2017/04/19/toyota-hydrogen-fuel-cell-truck-line