Remembering Fred Stanton Fiedler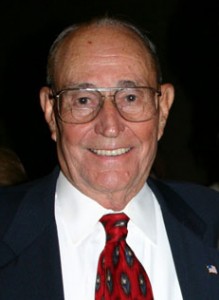 Fred Stanton Fiedler
March 12, 1922 — Feb. 25, 2008
Fred Stanton Fiedler, a World War II veteran, lifelong supporter of the Boy Scouts of America, successful businessman, and devoted husband and father passed away February 25, 2008, after a six-month illness, at the age of 85.
Mr. Fiedler was born on March 12, 1922, to parents Frederick and Beatrice (Stanton) Fiedler in Peoria, Arizona.
He joined the Boy Scouts of America in 1935 and earned the rank of Eagle Scout, which began his long association with the organization.
After graduating from Arizona's Superior High School in 1939, he attended the University of Arizona in Tucson on a scholarship provided by the Magma Copper mining company for whom he once worked. He was a member of Tau Beta Pi, the national engineering honor society, while earning a degree in mechanical engineering in 1943.
During World War II, he served in the Army Air Corps after completing officer's training school at Yale University in New Haven, Connecticut. He was stationed in Boca Raton, Florida, and Lake Charles, Louisiana, with the 3rd Echelon Maintenance Depot, achieving the rank of 1st Lieutenant. He was an aircraft maintenance officer and a B-29 flight engineer. He was a reserve officer until 1953.
After World War II, Mr. Fiedler moved to Los Angeles where he managed the construction and engineering department for the Union Oil Company of California as it rapidly expanded throughout the western states. While at Union Oil he met Patricia Irene O'Neill, whom he wed after a six-month courtship on Sept. 20, 1947; they were married for 60 years.
They bought their first home in Burbank before moving to Glendale in 1956. They raised 12 children (eight boys and four girls) who were born between 1948 and 1966.
In 1957, Mr. Fiedler started his own engineering company — Fred Fiedler and Associates — which still produces work for most major oil, alternative energy, convenience and food companies.
In the early 1960s, he formed Stanton Construction, which built service stations throughout Southern California. In the latter part of the decade, he began Tiki Construction, which built service stations in the Hawaiian islands from its headquarters in Hilo.
He led his sons into scouting and five sons and two grandsons also reached the rank of Eagle Scout. Through his involvement with the Verdugo Hills Council, Mr. Fiedler was honored with the Silver Beaver award. He was also a member of their Hall of Fame for his service as a Cubmaster, Scoutmaster and council vice president.
He also enjoyed overseeing his sons' interest in ice hockey by serving as director of youth ice hockey programs at Burbank's famed Pickwick Ice Rink.
After semi-retiring from his company, Mr. Fiedler toured the world with his wife.
Mr. Fiedler was an honorable, principled man who lived every day by the Scout law. He was loved and respected by his family, friends and acquaintances. He loved his country and was a proud American.